Golf
Follow us on Facebook & Instagram for updates on Spring Hours!
MINI GOLF:  Monday – Sunday : 9:00 AM – 10:00 PM
Follow us on Facebook & Instagram to find updates regarding last-minute closings due to weather.
18 HOLES MINI GOLF
Adult $9.75  |  Child (6-10 years) $7.00  |  Under 5 yrs. FREE
EACH ADDITIONAL COURSE
Adult $4.75 |  Child (6-10 years) $3.50  |  Under 5 yrs. FREE
Take advantage of the "Early Bird" Special: $5 Rounds of Mini Golf between 9 AM and 10 AM!
*Must mention discount at the time of purchase.
*Early-Bird special only valid during the summer season when we have extended hours.
3 scenic courses – Stay for a second round at half price!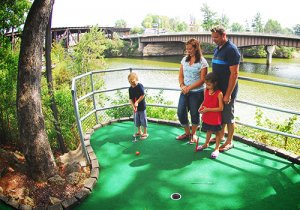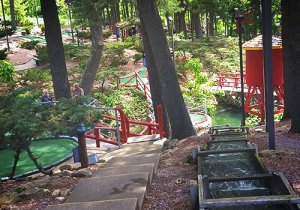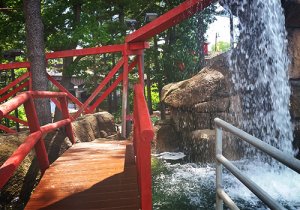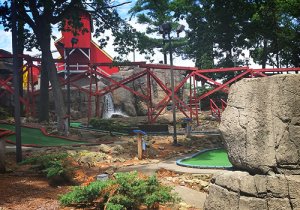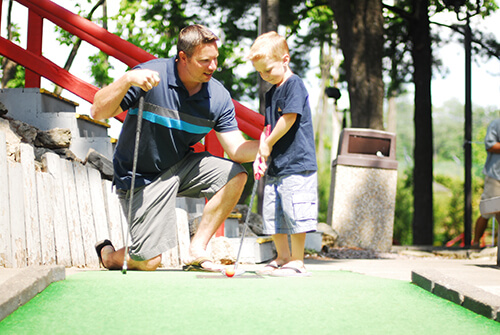 MINI GOLF
If you are looking for a unique Mini Golf course, you have found the place! Our courses are fun for all ages!
---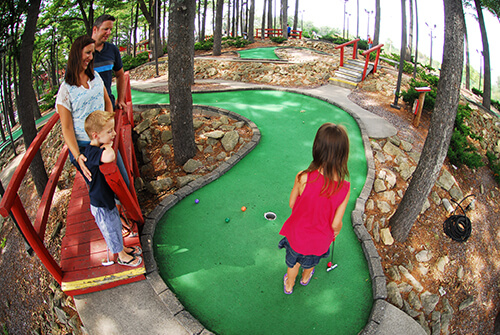 ADVENTURE GOLF
Tree Shaded Mini-Golf
The only mini-golf in all of Wisconsin Dells with shade! Three different 18-hole courses that are notable for their thundering waterfalls and rugged terrain along the scenic shoreline of the Wisconsin River. Leave it to us to turn mini-golf into a family sport.
"Our favorite course is the one shaded by pines on a bluff near the dam" - Travel American Magazine.
---